MIXING BUSINESS & PLEASURE
with Sunstate Pest Management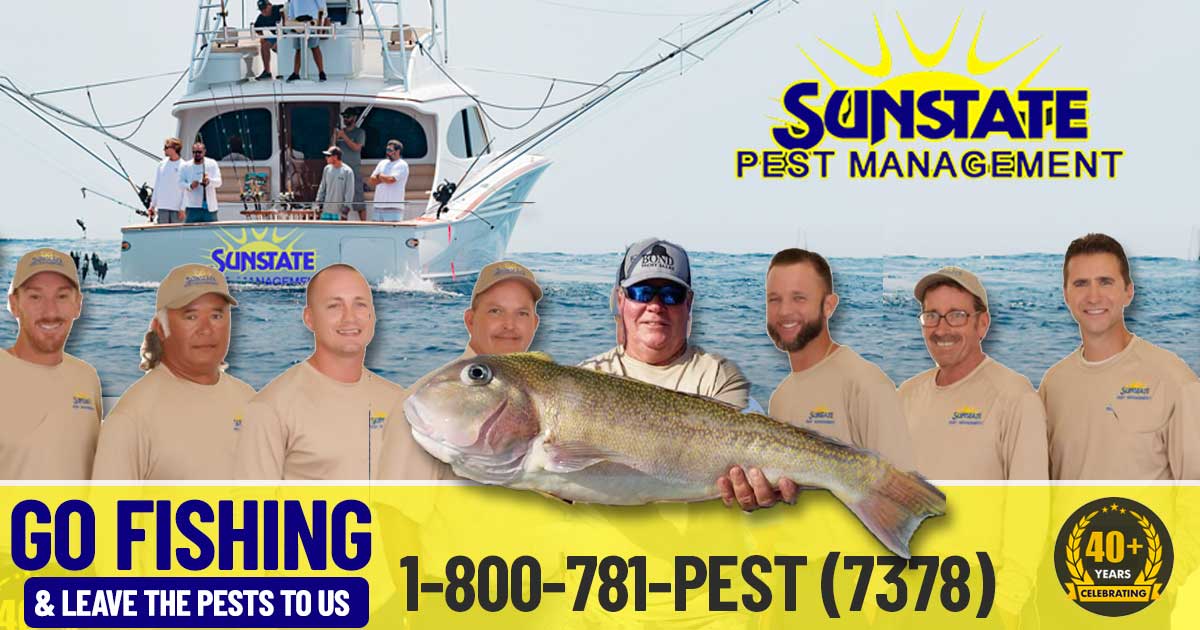 Talking a little business and some tournament fishing with our boy Steve Goff
Talking Shop with Sunstate Pest
It's Tournament Season on the Space Coast! We've got some local staples coming up on the calendar, including the Central Florida Shootout, FSFA Offshore Slam, and CFOA Offshore Tournament, among others. So, we're sitting down for some tourney talk with one of our favorite local proprietors, Steve Goff, Sunstate Pest Management in Rockledge, to ask him some questions about his business, and also, his involvement in the ongoing fishing tournament season.
Thanks a ton for taking the time to sit down with us, Steve! Let's start by learning a little bit about your business. When did your business open?
We started Sunstate in February of 1980 so we've been around for 42 years. My dad and I started the company and in 1984 I went out and started another pest control company, Apex Pest Control, and then in 1989 I came back to work with my father here at Sunstate and I have run the company ever since.
What inspired you to start your own business?
Beer — you think I'm kidding you. I'll tell you why, in 1978 when I moved up here from south Florida. I went to work for my dad, he was the manager for a pest control company in Melbourne. The first job he gave me was to call clients up and tell them we are going up on their pest control costs because of inflation and general costs. I got a hold of this old man on the phone, you could tell he was older just by talking to him. I said "sir, we have to go up on your pest control bill," and gave him the whole spiel, etc.
He replied, "son, I'll give up my beer before I give up my pest control!"
Me being 24, I was like, what, people give up beer before they give up their pest control? After that conversation I walked into my dad's office and said we need to do this for ourselves! That's how it happened.
What makes your business unique?
I think the fact that we've been around for a long time. We've been through recessions, we have employee's that have been with us forever. We are really a mom and pop operation but work on a larger scale. To me family is the most important thing.
Tell us about your business, including the type or products or services you offer?
I like to consider us a full service business, we do general household pest control, termite control including wood infestation reports and pre-treats, so everything that has to do with termites. The only thing we don't do with termites is fumigation. We do rodent control, we don't get into the removal of raccoons and stuff like that, mainly just rats and mice preventative measures.
Do you have employees?
We have 15 employees.
Can you describe your customers and why they select you over your competitors?
Referrals, that's the biggest part of it. We've been around forever so that has a lot to do with it. Probably 70% of our new customers come from someone that referred them to us. Our customers are educated, we educate them in the beginning. We explain to them from the beginning what's going to happen throughout the process so they know what to expect. I think that's what is unique with our customers, they trust our advice and understand the process
What has been your biggest success to date?
Children, having children, raising children and now having grandchildren.
What has been your biggest challenge?
When I came back and officially took over the business in 1989 the business was in debt, extremely in debt. I didn't know that before I came back. I learned this after the fact. The hardest part was I had to tell my dad we had to tighten our belts so he had to give me all of the credit cards, etc. It took me three years after that to turn the business around to where we had money in the bank after paying all of our expenses.
Does your business give back to your community?
Absolutely, we've done a lot of work for Habitat for Humanity, we sponsor youth baseball teams we sponsor youth cheerleaders. We sponsor a lot of local youth sports. We sponsor many of the local fishing tournament as well.
You are a successful business owner, husband, father, grandfather, etc. Is there a magic pill for success?
Everyone has a different version of success. Am I successful? I consider myself successful because I have a happy family, I have pretty much what I want and stuff like that. I think the key is to set your mind on a goal and do it, just stay with it. I've done this for over 40 years, I've only had two jobs in my life.
That's awesome, Steve. Now, let's talk some tourney fishing! Are you fishing in any of the events this season?
I'll be fishing the Central Florida Shootout, CFOA Offshore Tournament and the FSFA Offshore Slam.
Ever placed, if so, what tourney, when, and what fish and weight? 
A number of years ago we won 1st place dolphin in the FSFA tournament with a 39lb. dolphin we caught on a downrigger. We never saw the fish until it was boat side. It never jumped once. This was probably 1998 or 1999. My wife had a Chrysler convertible at the time. We sat on the back and drove it around showing off our tournament check, it was fun! The big one for me though is in 2012, we won the Treasure Cay Billfish Tournament. That was by far my most memorable fishing event and biggest fish I ever landed in a tournament. I caught a 300 + pound blue marlin. It was my fist marlin, we won the tournament which is a pretty big tournament in the Bahamas. It was unreal, probably one of the best tournaments I've ever been involved in.
Do you have any general strategy this year you'd like to tell us about?
I don't really have a strategy right now but I will as we get closer and I can get a look at the weather a sea surface temps. A good tip is to plan a day ahead of time so everything is ready to go. I will be ready come Friday. Rods, bait, rigs, ice, gas, food, etc. I like to get out early on tournament day. Remember the little things like having a couple spinning rods ready, one rigged with a hook and the other with a jig you can pitch quickly is important. This could be the difference of putting a fish in the winner's bracket or not.
Why do you support our local fishing tournaments? 
Because I love to fish and I'm fortunate to be able to do both, support and fish. Plus, with the tournaments I typically participate in a lot of the proceeds raised to go to good local causes.
You are a past President and longtime member of the Florida Sport Fishing Association (FSFA), our local fishing club. Why would you recommend someone joining the club?
We have so many people that are new to the area that want to learn how to fish the area. There is no better place to meet other people who love to fish and have been fishing our local waters for a long time. The club was founded in 1968 and there's just so much knowledge. Also, the camaraderie, getting to meet some great people that share a common passion for fishing.
Thanks again for chatting with us, Steve! Best of luck in the upcoming CFOA and FSFA offshore tournaments!
As for our readers out there, if you're in need of pest control services, give Steve a call at Sunstate Pest Management. Steve and his crew are of the best people, and we can guarantee you will be well taken care of! Call Sunstate at 1-800-781-PEST (7378) or visit them on the web at sunstatepest.com