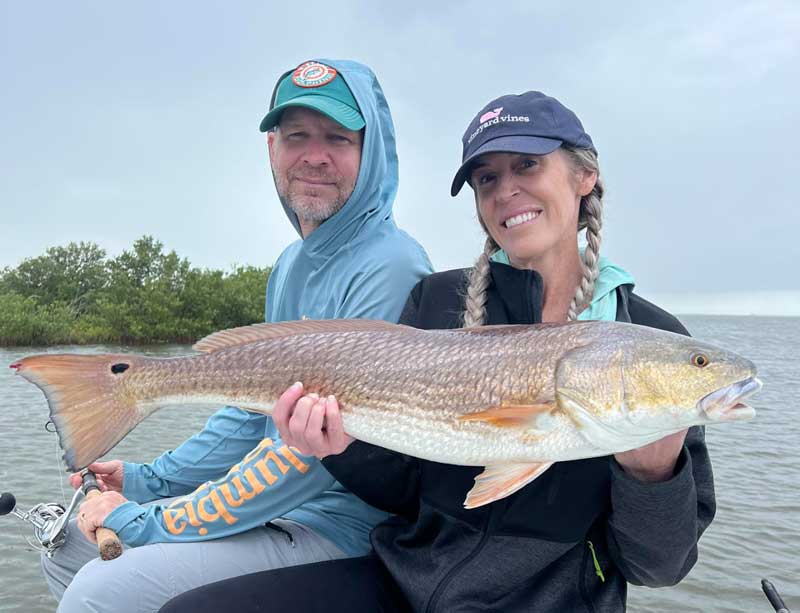 It's been a brutal windy few weeks across the Space Coast, but luckily the inshore fishery thrives with these kind of conditions. Unfortunately the ocean is out of the question and fishing in general can be challenging there's a few styles of fishing that can be quite productive. Inshore fishing in this area is different than most as we don't have much in the way of tidal flow, but with the cranking winds it adds a bit of flow the fish really seem to like, not only does it make a little bit of current that isn't naturally there, it also helps disguise the noise from boats, along with other sounds and vibrations making it a bit easier to catch fish.
Anglers can use several different methods from tossing cut and live baits around wind blown points or down trees, to positioning themselves up wind on a wind blown bank and drifting down shorelines tossing soft plastics. Look for areas that have a good wind rip around a mangrove shoreline, as well as slightly deeper sloughs with that only being even a few inches deeper than the surrounding flat. These type areas can get stuffed with large numbers of fish and make for easy catching.
For the artificial enthusiasts stick with soft plastics such as Gulp or no live bait needed paddle baits. Anything that creates lots of natural motion, or heavy scent is going to attract more attention. If the wind makes it difficult to work plastics and your itching to get out, this is some of the best time to fish cut baits. Use 2-4″ pieces of ladyfish, mullet, or even pinfish are great options and can produce lots of great fish, especially when a windy scenario makes it hard to move around and toss plastics.
These techniques have been producing some large numbers of redfish and trout with the occasional black drum. The average fish are between 20-30 inches which make for lots of fun on lighter 10lb spinning outfits. However, it's not uncommon to get that large bull redfish or gator trout.
Hopefully the winds will let up and open up some more options that November has to offer, don't let the wind get you down, get out and enjoy some epic space-coast inshore fishing!