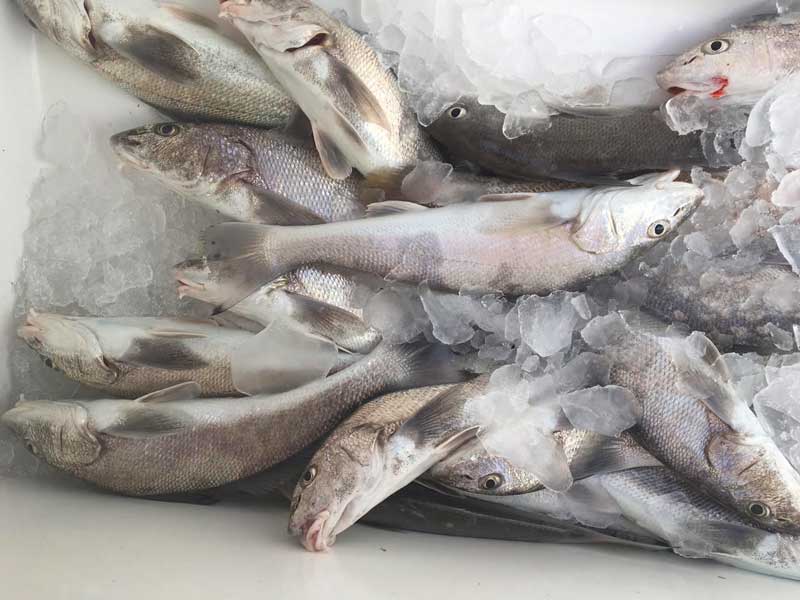 Hope everyone stayed dry this past week with the horrible weather, but this week ahead of us will get back to normal. The surf is going to start lying back down this week and get smaller and smaller closer to the weekend. The wind looks very favorable for us as well. We also have a full moon coming into view on the 27th, so fishing this week should be outstanding as long as the surf clears up and the weeds stay clear!
Alright, to the fishing part, the bluefish and Spanish mackerel are out there feeding like crazy, chewing on live and frozen finger mullet. Just make sure you use a tad bit of wire so their teeth don't cut your hook off and go back to the depths with it. If you are a lure casting junkie, anything shiny works – gold/silver spoons, Gotcha lures, or flash jigs will get them. Big bull whiting have been around, tagging along some decent slot-sized black drum that are feeding on frozen shrimp pieces, sand fleas, and clam. Standard pompano rigs with small #1 J or circle hooks work well. Everyone has their own preference on hook size, but just make sure you don't use too big of hooks. Trial and error is the best when it comes to determining hook size. If you're missing bites, it may be time to change hook size or style.
Sand fleas have been all over the beach for the most part. Higher tides seem to show them more due to the sand being softer. We should have some live fleas in our shop for the weekend if you are in need.
I wish everyone a happy Thanksgiving and tight lines! Enjoy your turkey!"