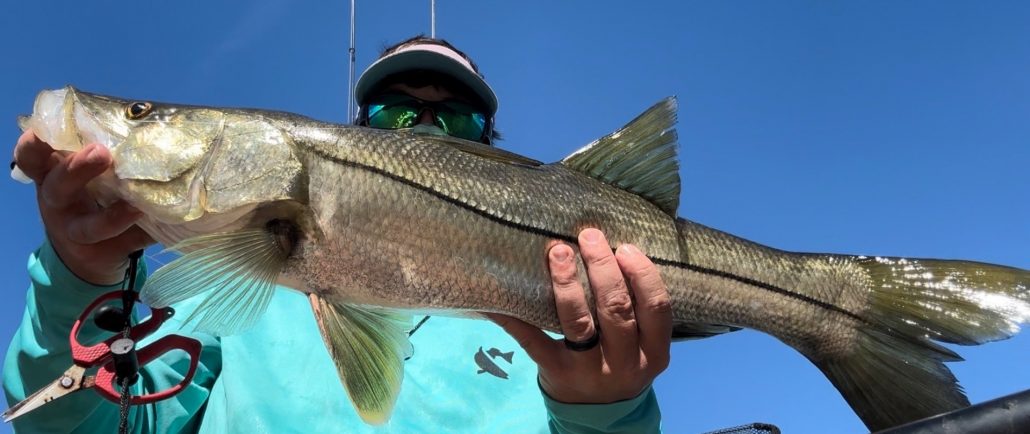 Happy Monday SpaceFish,
I was able to get out on the water Friday morning after the storm. I actually wanted to launch from the First Street Boat Ramp in Downtown Melbourne, but that ramp was closed down, I am assuming as a result of the Hurricane. I ended up launching from Scurrah's Landing (A spot I talked about recently when detailing Crane Creek). Here is why I picked this spot for my only day I was going to be able to fish this week.
Last week when I fished Turkey Creek I noticed that the mouth of the creek and the upper parts closer to the Lagoon is where most of the fish I was targeting seemed to be. I try to be mindful and understanding of fish movements throughout the year. For the big 3 (Snook, Trout, Redfish) of inshore fishing on the Space Coast here is my general rule of thumb – Spring and Fall are transition periods between Summer and Winter spots. If you are an expert or upper echelon angler, this is not for you, because you already probably know this. But if you are tuning into SpaceFishReport because you're a recreational, novice, beginner or looking to get into fishing this area for the first time, I hope this helps!
Let's look at Snook for example, since that is my favorite of the big 3. Snook are going to spawn in late summer on the beaches, which means throughout the mid to late spring they will be transitioning to the inlets, spending some time in the mangroves around said inlets until it is time to hit the beaches. Not all Snook of course, but the bigger breeders and quality fish will be following these trends. In the winter they like to push into the rivers in other areas in Florida where there are more inlets and tide flows. You see, the water coming in from the ocean in the winter is cooler than brackish tributaries, so they will seek the warmer waters of back water creeks. But even here in the lagoon system this means they like moving into the IRL's tributaries like the St. Sebastian River, the Eau Gallie River, Crane Creek, Turkey Creek, Goat Creek and Horse Creek (a lot of animal themed creeks), and they do this for the deeper, more stagnant water that will remain warmer, and the muddy bottoms that will retain warmer water temps. I have noticed the chances of catching inshore slams (Snook – Trout – Redfish) increase dramatically in these tributaries in the winter time, that is not a coincidence! In the Banana River my favorite winter time spots are the deeper residential canals in Satellite and Cocoa Beach, for the same reasons – deeper, warmer water!
Ok, so why did I just go on that tangent? I picked the spot I did this week based on a trend I noticed last week, that reaffirmed my already existing theory of fish movements within our estuary. I think that good quality fish can be caught right now around the mouths of these tributaries, and the shorelines outside of them because they have been on the move from the inlets in recent weeks. The wind was pushing pretty good because of the wind, a stiff breeze blowing roughly 15 miles per hour from the south. Another reason I picked this spot of shoreline to fish was because if the water is being moved from the north or the south this jagged shoreline offers some great spots to sit in an area of wind protection and make casts with artificials into ambush points. One area I had picked out was the point just north of Crane Creek, but just south of First Street Boat ramp, that piece of shoreline that juts out a good ways into a rounded point, there is a high rise condo that sits right there too. This is where I caught the Snook pictured above. But I caught fish all day, in every spot I fished.I totaled 16 Snook, most of them were between 20-25 inches but I was able to catch two that I guesstimate to be overslot fish, though I don't have exact measurements. I got into some fun sized, drag pulling Jacks, and some Schoolie Trout. I did not catch a Red to complete the slam, however the red-hot Snook bite was a consolation.
The area between Scurrah's landing seemed to hold the highest concentration of 20+ inch Snook, and one of the two bigger Snook was caught there as well. This area has a jagged shoreline and can be a great area to fish from a kayak on a day when the wind is blowing out of the south. I did fish south of the launch spot as well, this is where I got into some schools of Trout and Jacks. They were hanging at the deeper end of docks.
I started the day with top-water, and even though the plug I was using had in-line hooks I replace the factory stocked trebles with, I was still snagging a ton of post-hurricane debris, so I put that up and fished a 3.5 inch Slam Shady paddle tail on a ⅛ oz weedless twistlock hook. I fished this one presentation all day and had no reason to ever change. Part of me wished I had more lure variety to report on, but sometimes even I am smart enough not to snatch defeat from the jaws of victory. The key to getting a lot of action is to rig up on a weedless hook – whether you're fishing a soft plastic paddle tail, shrimp or jerk bait – the key is to have that all terrain capability and not get hung up. Especially with the Snook, almost all, if not all of the Snook I caught took the lure in the mangroves, over laydowns, or within a few feet of structure, but even those fish followed the lure out of the structure I threw into.
If you're someone who is looking to grab a rod, a paddle, sit on a piece of polyethylene plastic and catch a few Snook this week, get on down to Scurrah's Landing and check out the shoreline areas around Crane Creek. Just make sure you have a good weedless rig to throw because you may have to beat the bushes and laydowns to get the bites, but you will be in for a great time, and tight lines.
I hope everyone has a great week, and gets some time on the water! Until next time, Peace!