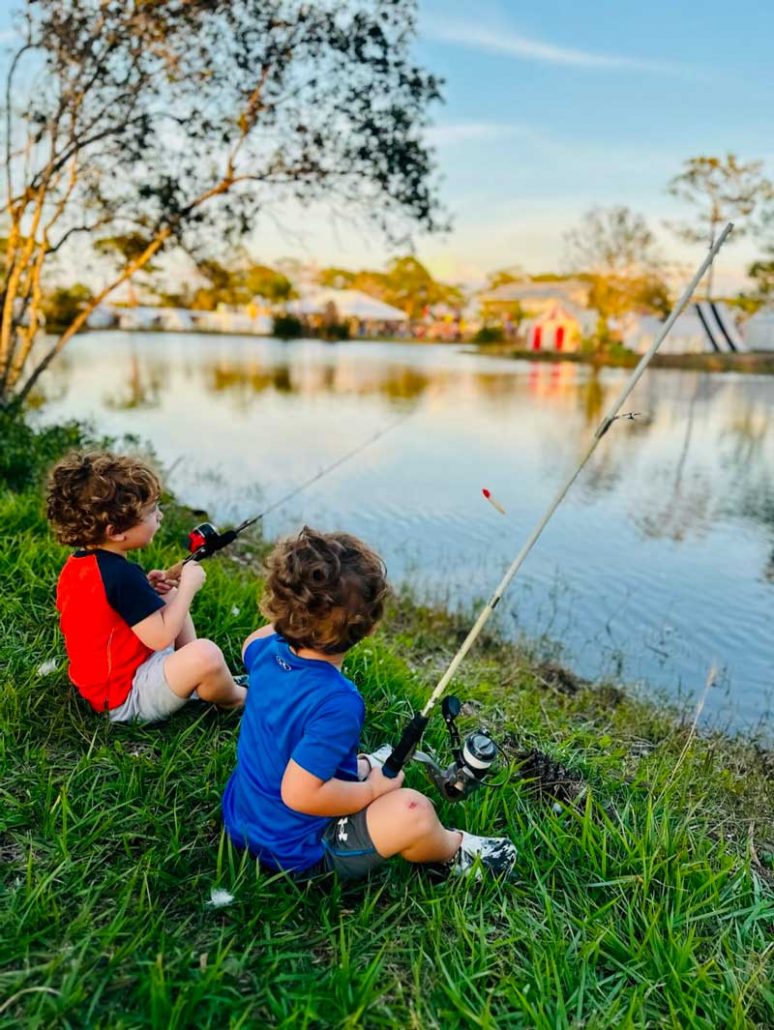 Happy Sunday Spacefish,
After a weekend which featured an extremely windy Saturday and a damp and dreary rainy day on Sunday, I decided to switch gears from the usual kayak fishing report and cover something else, that many of you out there reading have done before, or will do in the future – which is taking small children fishing. So I am extremely blessed to have two sons, they are really something special. They have big personalities, but they're also toddlers. My oldest son Seven, is 3; and my youngest son Rix, is 2. They both just had birthdays in the last few months, and they love fish, fishing, going to Strike Zone and Bass Pro Shop. They love helping me clean my kayak, they love going through my fishing gear and equipment etc. They are eaten up with all aspects of it because they know their Dad loves it. Some of their favorite bath tub toys are actually hard plastic plugs that I have found and collected that were hung up in trees and mangroves and have taken home, cleaned and de-hooked for the boys to play with.
So over the past few weeks I've made sure to take them fishing. We try to have an outing at least once a week, sometimes my wife comes too, and sometimes it's just Dad and the boys because I owe my wife some quality alone time for the time she allows me to spend kayak fishing. When you're a parent taking your kids fishing, you're pretty much a fishing guide – so for all the guides out there that write reports for Spacefish, my hats off to you, because catching fish for yourself is one thing, making sure others can catch them – very hard work! Anyway, taking my toddler aged boys fishing is so much fun, and I know it means more to me than them right now, but it is also challenging, and it is a lot of work. Things have to be done very efficiently, creatively, and crisply on my end to make sure they stay engaged and don't want to go off chasing squirrels and butterflies. So I am writing this partly from a satirical point of view, but I am also kind of being serious because if you're like me and have been engulfed with fishing as an adult, going out and bank fishing for as many panfish as you can catch, as quickly as you can catch them, can be a very new experience!
Perspective:
Make it Fun for Them:
So my kids love fishing, they love all things fishing, but they're 3 and 2 respectively. They just don't "get it" yet – and that's ok! But if I, they're Dad yelled at them and treated them like a drill sergeant, they wouldn't want to go. Here are some things I have learned that make it fun and engaging for them:
(A) We always bring a loaf of bread, because bread balls are a great bait for Bluegill and other sunfish, but also we get a lot of enjoyment out of feeding the turtles and fish and ducks. My 2 year old spends roughly 80% of our time fishing throwing bread into the water, we call it "creating a chum slick" – and as much as I mean that sarcastically, it does actually seem to bring up panfish to the area we are fishing. One last note of advice about the loaf of bread, I'd suggest bringing fresh bread, because neither one of my boys are above taking a bite every now and again while we're making bread balls and chumming the waters.
(B) Rod/Reels for Toddlers: You can see in the picture above what I am talking about here. But my my 3 year old has an Ugly Stik Dock Demon that was his birthday gift from his Nana, I realized over time that waiting for the bobber to go down was not very interesting for him, so I de-hooked a Zara Super Spook Jr that I collected from a mangrove, and tied that on his combo. He really enjoys casting it, getting to see it on the surface and reeling it back in. For him that's fishing and he has a ball with it. We frequently celebrate when the plug has been reeled back onto the bank and is in our hands. My two year old has an old beater combo I used to use while surf fishing. It was a cheap Shakespeare walmart 2 piece rod, in which I have taken the top part off. His line does not go out and he does not have the ability to cast anything. For him, when he is not chumming with the bread, seems to really enjoy having a rod in hand, getting to spin the reel, and also using it as a sword type weapon and likes to hit trees with it, for the most part he doesn't hit his brother, but that has happened and it's all part of the fun.
Be Patient
For this point read the above section. You should also be mentally prepared to deal with line tangles and knots like you have never seen before. I'd suggest bringing a spool of light mono because chances are there will be ample opportunity to just cut out a nasty knot and have to respool, or bring an extra rod or two so that a knotted rod/reel combo can be placed on IR and you still have a chance to catch fish. Also don't be alarmed when they lose interest in the rods/reels, the throwing of the bread and waiting for the opportunity to reel in an actual fish that Dad has hooked on his set up, and decide that wrestling with, and tackling Dad is what they want to do while "fishing". That's totally ok with me, we have had a great time walking around ponds, wrestling on the ground and sometimes we also bring a soccer or football to play with while a baited hook or two is in the water and we're waiting on the bobber to go under.
What We Use:
So for our terminal tackle we use 6 pound mono on all of our setups. We use the small 2 inch floats (Bass Pro Shops Brand) and size 6 Mr. Crappie hooks. Our bait of choice is usually bread, but we have also had success with live worms. We tried minnows once but we couldn't get over how much fun it was to try and take them out of the bait bucket. So we're going to wait a while before we use live bait fish again. By the time we're in kindergarten I'm hoping we become a force to be reckoned with slinging Johnson Beetle Spins and Crappie Jigs, but for now we're definitely a bait the hook kind of outfit.
Our Best Outing:
This past weekend at Wickham Park, we caught 4 StumpKnockers and fished for a little over an hour. Most of the time we consider one catch to be a great trip. While my boys are doing their thing, I work as frantically as possible to get baited hooks in the water. Once the bobber goes down, I set the hook and once it is on, I let one of them reel it in. Usually I end up throwing the fish and bobber back in so that both of my boys get to reel the fish in. Being the one that gets the "2nd reel in" doesn't seem to dampen the experience at all.
Our Favorite Places to Fish:
These are in no particular order. We have fished off of piers, but given their small stature, we would prefer to fish off of a bank more than a pier. That being said, I'd suggest bringing a towel or change of clothes with you because a few trips ago a very excited youngster went charging to the water's edge to launch a bread ball at a turtle and went feet first like he was sliding into home plate and before I could blink he was waist deep in the water. Pier fishing vs bank fishing aside, all of the following places also have playgrounds, which is a big deal to us. After fishing we usually go for a romp at the playground which can be used as a tangible reward for listening and following directions while fishing.
Wickham Park (Melbourne): Not all of their ponds are fishable, we like the one back there by the campgrounds. We've gone there for the last 2 outings, which was cool because on the other side of the park the Renaissance Fair was in full swing. We got to listen to the music and performances from the stage and got to see people in full LARP apparel which was pretty cool.
Lake Washington Park (Melbourne): They have a great fishing pier right there by the boat ramp, they have rod holders on the pier which is pretty clutch. Also there a ton of Alligators at Lake Washington, so the boys enjoy that.
Malabar Community Park (Palm Bay/Malabar): This is also a great pond to bank fish for Bass. I've caught a handful of Largemouth here as well.
Eau Gallie Pier/Pineapple Park (Melbourne): Huge pier that juts out into the Indian River Lagoon. We've fished here with frozen shrimp, my kids like seeing the schools of mullet that swim by, and they get excited when a dolphin shows up. We've only done this once, I don't like catching catfish, which is pretty much all I have ever caught with frozen shrimp from a public pier.
Melbourne Beach Pier/Ryckman Park (Melbourne Beach): We've never actually fished here, but it's close to my parents house and we play at this playground a lot. We usually go walk the pier and watch other people fish. But as far as public piers go, it seems pretty popular.
Fay Lake Wilderness Park (Port St. John): We've only been here once, there's a nice playground close to the pier on the southeast corner of the lake. We didn't catch anything and got bored on the pier. But we were excited to see a baby Alligator hanging around the pier.
Conclusion:
I know this was different, but for someone that fishes a lot, and takes it as seriously as a recreational angler could (or should) I have found the art of giving my children a fun and meaningful fishing experience to be a learning experience to rival figuring out the local Bass or Inshore fishery, but it has been a journey that has been nothing short of amazingly fun every step of the way. I hope this provides a would be parent or grandparent with a nugget or two of information that can help take a toddler fishing, or at the very least a laugh or chuckle as you read this and imagine me being tackled by my toddlers while trying to bait a bread ball on a very small hook designed for catching crappie.
I hope everyone has a great week, until next time!