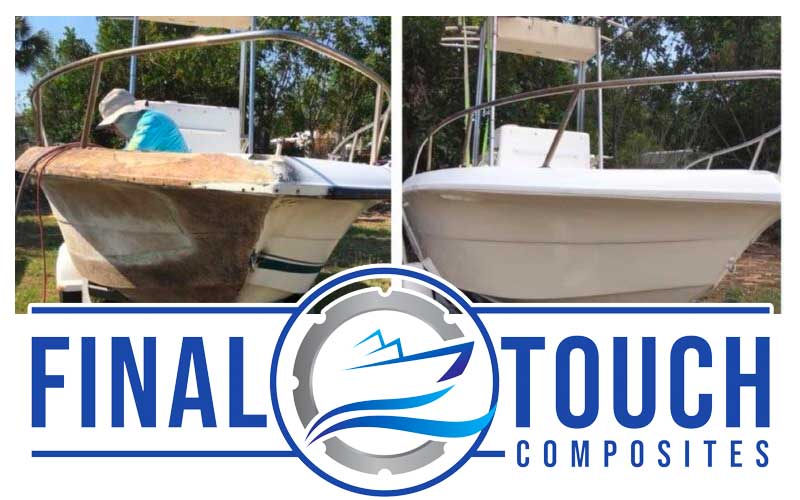 Having teenage boys that love to fish as much as I do is a wonderful thing. I realized a few years ago that it would probably be a good idea to find them a little Jon boat they could take out on their own. Especially over the summer when they had long days to spend out on the water. I found a 14' fiberglass Jon boat that fit the bill. It was a custom built boat by a company from S. Florida. I was told the builder was a boat manufacturer that built the boat in 2000 but had since gone out of business. It came with a 2003 15hp Mercury that really pushed it well. The seller had just gel coated the bottom of the boat so it looked good, but little did I know, he just put some lipstick on what was underneath. The boat worked great and the boys fished it like crazy with their buddies. Over time, the floor of the boat started to crack to the point that I realized it would need to be re-glassed and new wood put in.
I started to make some calls to find someone who specialized in fiberglass work but quickly realized that no one was interested in the project. I guess it was too small of a project. I had one person tell me that for him to do it, the job would cost more than the entire boat, motor and trailer is worth combined. I thought he could have just said he wasn't interested but wherever. That's when I reached out to one of our awesome clients, Fiberglass Florida and asked for a referral. They were spot on as always and introduced me to John Fleming, owner of Final Touch Composites. I spoke with John and he was so understanding and suggested I bring the boat by his shop and he would take a look at it. John's shop is located in Grant. I drove the boat down on a Tuesday. He looked at the damage and gave me a very fair estimate to replace the damaged wood and re-glass the deck. He said he could have the boat ready that Friday if I left it with him, so I did.
Sure enough, I received a call from John on Friday saying the boat was ready to be picked up. Man oh man did he crush it! The deck was thick, sturdy and looked brand new. I was so excited to get the boat back for the boys. I asked John if I could do a write up and share my story with our readers because I am sure there are other folks like me out there looking for someone that specializes in fiberglass work. John agreed and gave me a tour of his shop and showed me some of the other projects he was working on. He had a large center console that he explained was an insurance job and several other big projects taking place. He also explained they offer mobile services as well for certain jobs.
John has over 30 years of experience working with fiberglass and gelcoats. He's done everything from boats to custom fiberglass parts, satellite dishes, composite aircraft parts and wings, bathtubs, fiberglass pools, campers and more. You name it, he's probably done it! After personally working with John I can say he is a master of his craft, a true artist. If you are looking for someone to help you with your fiberglass project, I highly recommend John and his team at Final Touch Composites. Give them a call at (321) 795-9660.