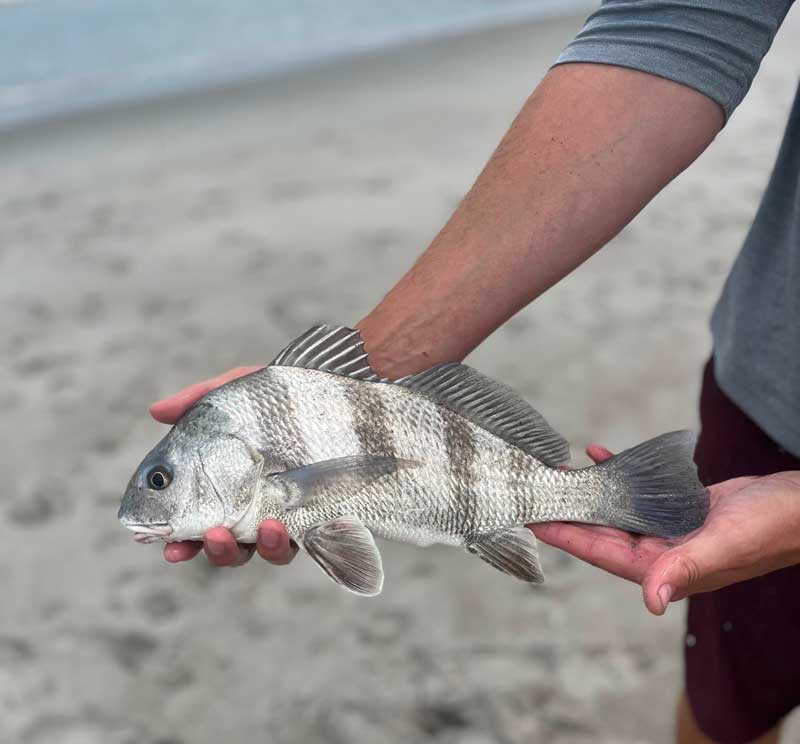 Hey y'all, what's happening? It's been a solid two weeks since I last penned down a report, thanks to the wild wind and crazy weather acting up. But guess what? I'm back with the latest on surf fishing. The past week shaped up to be a real winner for all you fishing enthusiasts out there. Finally, a break in the weather! Just a heads up, though—the wind's trying to make a comeback, and the swell's tagging along too. It looks like we could get some showers also. But if you are willing to stick it out and beat the weather, keep on reading because it was an eventful week.
Last Monday turned out to be the first decent day for fishing, and it was a hit for many folks. Whiting, black drum, palometas, and bluefish were all over the place. The fishing reports have been on repeat from then until today. It's a relief to see that the fish were just waiting for us.
For bait, the go-to choices have been small bits of frozen shrimp—our pick is Blue Magic shrimp—and live sand fleas, which you might score right on the beach depending on the tides. Otherwise, swing by and grab some fresh fleas from us. Tossing them out on a pompano rig with a 4-5 oz triangle lead or a 2-4 oz sputnik will keep your bait out there for the fish to sniff out. Some days, the fish have been tight to the beach, schooling around washouts. Finding a washout by a deeper trough will produce the most bites. I've noticed some customers trying out Carolina-style rigs for bluefish and Spanish mackerel, with frozen chunks of finger mullet as the tempting treat.
When it comes to going after Spanish mackerel and bluefish with lures, it's a piece of cake—they'll go after just about anything shiny. Gator Spoons, Gotcha's, and flash minnow jigs are classics that should be in everyone's tackle box. Just make sure you use some #3 wire or #4 wire so they don't bite all your rigs or lures off!
I hope all of y'all have a great week and look forward to seeing in the shop! Tight lines.