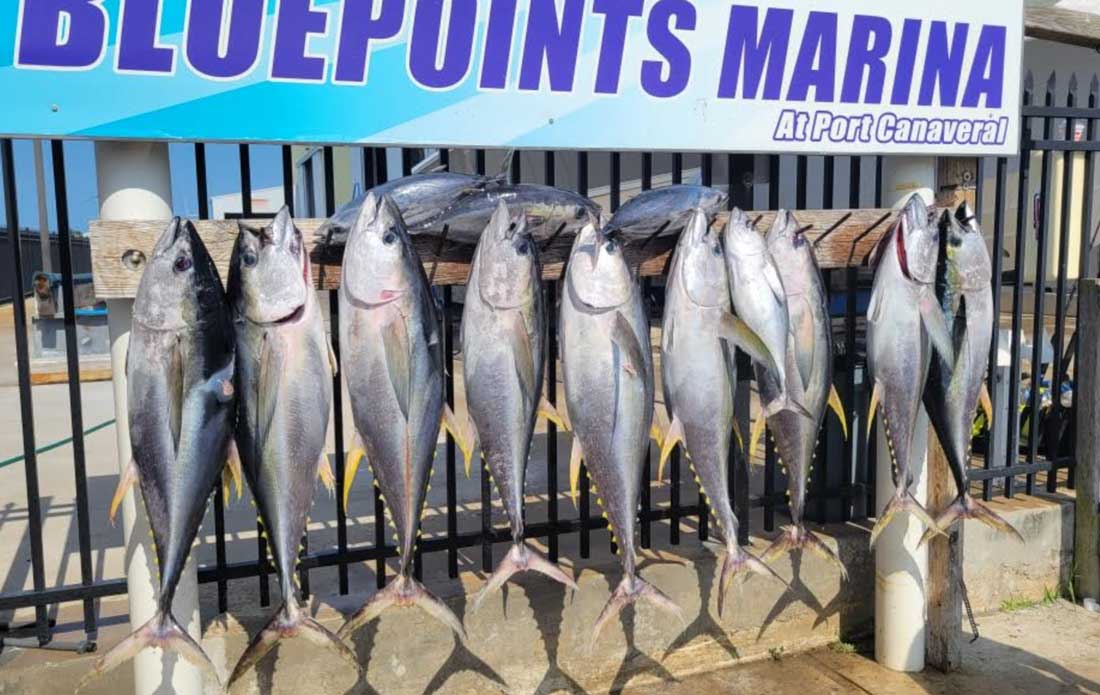 Early in the week of May 1, the weather forecast made it look like Thursday, May 5, was THE DAY to run to the otherside to look for Yellowfin Tuna. Wayne Bogle assembled a team of Steve, Steve, Bob, Dave, and myself to make the run in his 31T Cape Horn. The only decision to be made was whether to leave Port Canaveral early to try to catch a morning bite or leave a little later to catch the evening bite. Easy decision – leave early and have the opportunity open for both.
We cleared the Port at 0400 and headed East in slightly choppy seas. Once we were in the Gulf Stream, it calmed down considerably. Four bean bags allowed some of the crew to catch a little rest. As the sun cleared the horizon, we were 70 miles offshore and there were three other boats in the area although the radar wasn't picking up birds, yet. It appeared that the nearest boat was tight to a fish so we put our lines out: a Yo Zuri Bonita and a Nomad on the corners and ballyhoo from the outriggers. At about 0740, all four lines went off. With a little dancing around, two 50 lb. class yellowfin, a blackfin tuna and a skipjack tuna were on the deck.
From that point on, about once an hour, we would find working birds and/or working fish and pick away at the fish. Anywhere from one fish on a stop to three fish on at the same time, the catch was adding up. The weather was beautiful and the fish were cooperating. At 1330, with nine yellowfin, two blackfin and two skipjack in the box, the vote was to head for home. With calm seas, we arrived back in Port Canaveral at 1630 and began the "chores" of cleaning the boat and cleaning the fish. By 1830, all was accomplished and we split up for home – everyone with about 50 lbs. of fresh tuna. A great trip with a great crew. We never got more than 80 miles offshore and, in fact, we heard some reports that tuna were found at 65 miles.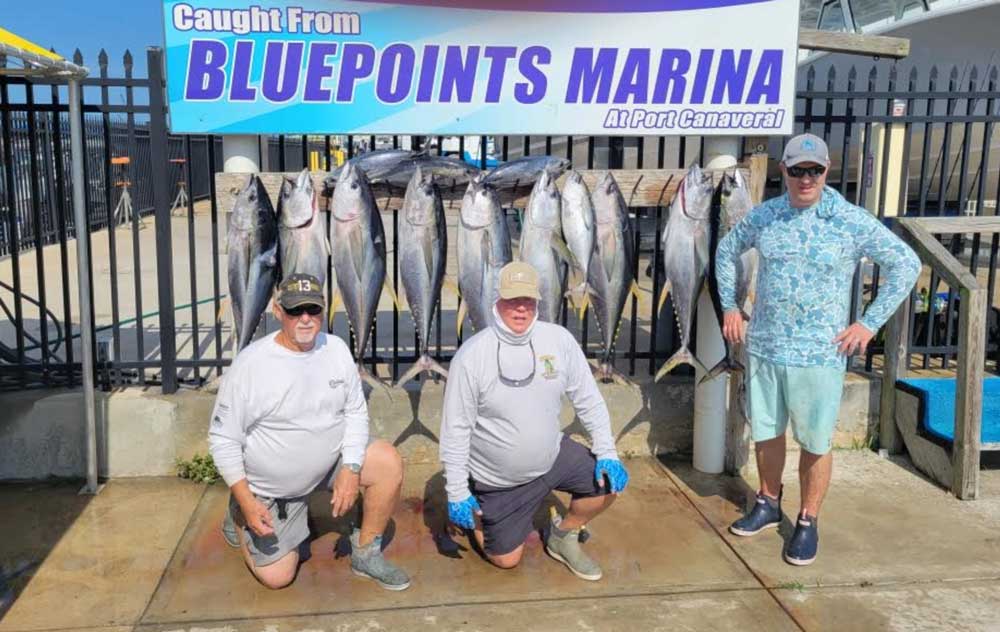 Of course, now the weather is back up and it is not clear when we will get back out but we are keeping an eye on the wind.