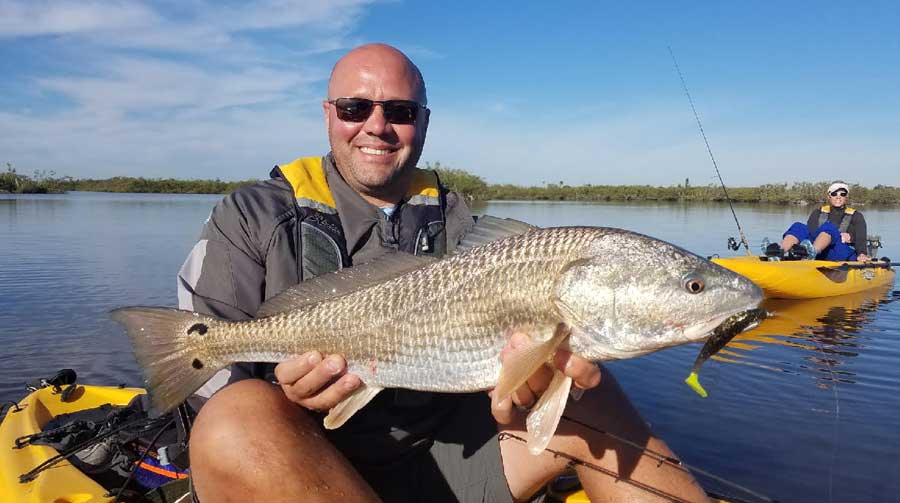 This week's fishing will be a bit tough with the high winds mid-week, however, look for it to be real nice as the weekend sets in. For kayak fishing search out the backwater areas of the Merritt Island Wildlife Refuge. The water will fluctuate some but it has been mostly steady with the spring rise. This opens up dry mangrove lined mud flats for hungry redfish. We have been tapping the adventurous side of kayak fishing for a few weeks and it has paid well. Artificial lures like the Slayer SST (Paddle tail) soft plastics work great in this type of "search" fishing as it allows you to cover a lot of water. Bring bug spray!
Some flounder are being caught and that will continue over the coming weeks as they move in from their winter spawn on the continental shelf. The brown water has been tough to get away from and it's obviously not our typical fishing. Look to other dark/dirty water fisheries for hints and tips that will undoubtedly help in our situation. Dark or glow colors, flash/gold, noise and other tactics are used daily in other areas and they can be used here.
Many of us that guide regularly on these lagoons are concerned for the water quality and even more so for some of our resident populations of fish. As a person that hopes for a bright future, I have looked at ways to help in using this resource. I have dabbled in catch and release for the major two (reds and trout) for years but were willing to take drum, sheepshead and mangrove snapper. As of the most recent browning of the Brevard County lagoons, that will no longer be the case. All lagoon fish should be released using the best possible techniques. So join me and many others in insuring we have some fish left as we limp into a hopeful recovery.