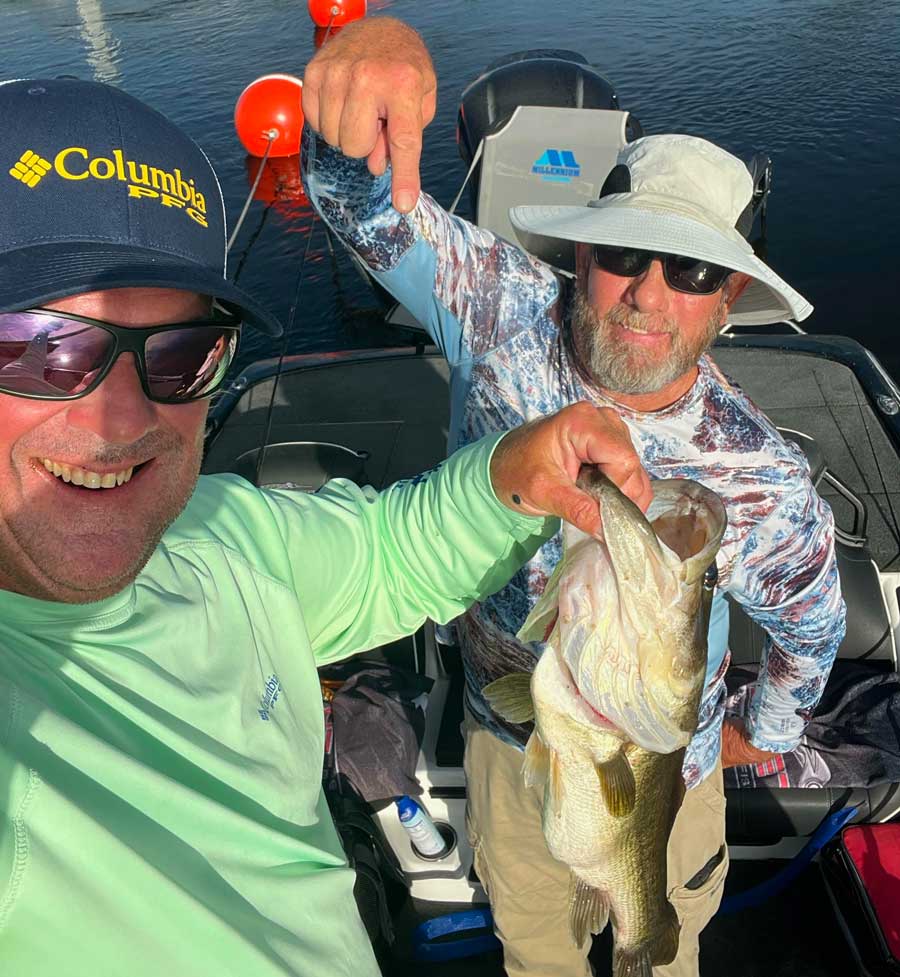 I've had a few night trips this week and I've been on the water about every day. We caught most of our fish early, before water temps hit 90 degrees.
We hooked 2 giant bass on a Spro Poppin Frog (Black) but they threw the hook. We had several quality fish on a Mike Bucca Bullgill wake bait in bone. I can't wait to see some of these 6-8lb fish we are catching this fall when they get a belly. Bass Assassin RSB worms in Gooseberry and Black/Blue tail with a 3/8oz weight in the ditches worked well. I'll give you a tip, pick up some Watermelon Red, Black and Blue or White Bass Assassin Die Daper swimbaits and fish them on a 4/0 or 5/0 hook weightless. The fish are chasing bait all over the place. If the water is stained throw dark colors. Keep the bait just under the surface and hold on!
Weightless Senkos in Watermelon Red are also a good way to get those tough fish to bite. I punched a little bit this week and did pretty well on a Gravedigger skunk ape. I'm still getting through the grass with an ounce and a quarter weight and a 4/0 Trokar hook. The jackhammer in gold shiner half ounce with a Hogfarmer Spunk Shad TN Shad color did well in scattered hydrilla. We caught them burning it over and through the hydrilla.
Night fishing has been slower than expected. We are only getting about 20 bites in 6 hours but we did catch some nice fish right at dark on buzzbaits. The black spro frog does well an hour before dusk and at night. We did get an 8lber on one trip that crushed a Picasso Double Buzzbait in three quarter ounce and several around 5lbs on Spro black Poppin frogs.
If I could only take 5 baits out this weekend they would be a Poppin Frog, Poppin Shadz, Speedworm, Creature bait and a RatLtrap. If you are trophy fishing the Bullshad wake baits and Rats are money.
I'll post up a report mid week next week. Good luck this week.